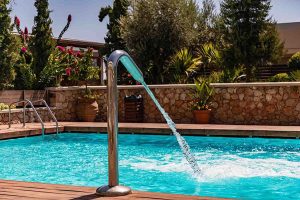 If your pool pump isn't working the way it should be, you may need to replace the motor. Replacing the motor can be much less expensive than replacing the entire pump, but it's crucial that the replacement motor you purchase is the right one for your pool pump, and the new motor meets the appropriate appliance efficiency regulations. Here's how to go about finding a replacement pool pump motor.
Decide Whether or Not to Upgrade Your Pump
A broken pump motor may be a blessing in disguise. Pool pump technology is improving rapidly, so if you're using an old pump, it's possible you're wasting money. This might be an opportunity to upgrade to a newer, better device! Pentair's Intelliflo Pumps are quiet, energy efficient, and built to last! We've said before that the Intelliflo pump has been one of the greatest advancements to come to the pool industry. Consider having us replace your pump with a state-of-the-art upgrade!
Identify What Pool Pump You Have
Since here are many makes and models of pool pumps, you need to find out which kind of pump you're using. Do you have a variable speed pump, dual speed or a single speed pump? Where is your pump located? Is it a booster, filter or jet pump? The type of pump you're using will determine what replacement motor you need to get.
If you aren't sure what kind of pump you have, check the labels on your pump. If you're lucky, you'll still be able to read them, and identification will be easy. If not, give us a call at (805) 497-3365 and we can come take a look.
Selecting a New Motor
Once you know what pump and motor you currently have it's time to select your new motor. By this point, you should have the pump model number, the motor catalog number, the horsepower, service factor, amps, RPMs, and the motor model or part number. Taking pictures of these labels may prove to be useful references. Your new motor should match these specifications to ensure that it's the right one for your pump. We strongly recommend that you replace your pump's seals and motor at the same time to prevent leaks.
Appliance Efficiency Regulations
California appliance regulations and federal standards set minimum efficiency thresholds for energy and water consumption in products, including pool pumps. Unfortunately, the mere existence of these regulations does not guarantee that any new motor or pump you buy necessarily meets the standard. Always confirm that the new pump motor conforms with the latest requirements under California Title 20.
Pool pump motors are designed to last anywhere between 8-15 years before they need to be replaced. Dirt, hair, and debris that finds its way into your pool may cause additional wear and tear. If you catch it soon enough, the only pool pump repair you need to perform may be to clean or replace components. Keep an eye on how your pool pump is performing.