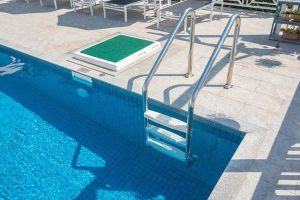 Smart home automation is a growing trend, but did you know that you can use smart technology to help with swimming pool management and maintenance? It can take a significant amount of time and energy to keep up with your pool cleaning and chemical balancing. So using automated systems means that you won't have to depend on a pool service company for every little thing. Instead, your smart system will alert you to what your pool needs. You will be able to effortlessly control your pool's filtration system, lighting and water level. Furthermore, you can even install automated safeguards to prevent fatal poolside accidents or injuries — a necessity in families with small children.
What Is a Smart Home Pool Control System?
A smart home pool control system is an electronic network in which your pool's equipment is linked through a wireless or Ethernet connection to a central control database in your home or on your smartphone. The smart pool system depends on an Internet connection instead of your presence in the home. You can manage your pool's settings from hundreds of miles away, whether you're on a business trip or on vacation. The cost of a smart home pool control system depends on the size of the pool, the quality of technology, the number of apps involved and whether your pool has an attached spa or jacuzzi that will require different automation settings.
How Does a Smart Home Pool Control System Work?
It takes less than a day for a smart home pool control system to be installed. Automation can help you control several different aspects of pool care, such as the management system, the pool pump, and the salt chlorinator. Without an automated system, the pool's pH balance needs to be routinely checked either by you or a professional pool cleaning service to determine if there is sufficient chlorine in the pool. A smart pool system measures the chlorine levels and disperses the appropriate level of chlorine at regular intervals. Many automated smart pool systems also have a self-cleaning feature, further adding to the value.
Another option for smart pool automation are robotic cleaners. Robotic cleaners operate on an automated program that factors in the size of the pool and can be turned on and off via smartphone. They travel up and down the walls and floor of the pool, cleaning every nook and crevice.
Automated variable speed pool pumps consume less energy than traditional pumps. Other devices that can be linked to the smart home automation system are;
Water leak sensors
Motion-activated pool alarms
LED lights and incandescent lights
Heaters
Valves
Water features
Music and entertainment
What Are the Advantages of a Smart Home Pool Control System?
First of all, installing a smart home pool control system raises the resale value of your home. With smart technology, the system becomes easy to operate, even for those who aren't tech experts or terribly familiar with pool care.
Smart home pool control systems save time and money because they can perform several maintenance tasks automatically for which you would normally have to call a pool service company or spend time doing it yourself.
Newer pool automation systems are energy efficient, which will ultimately reduce your electricity bill. And once you've installed a pool automation system, it can always be upgraded as new technology comes out, offering an element of longevity.
Are There Drawbacks to a Smart Home Pool Control System?
Although the advantages far outweigh the drawbacks to a smart home pool control system, there are still a few disadvantages. Not all of the automated technology is self-cleaning. While your pool may clean itself, you may still have to monitor the cleanliness of the filters and pumps. Also, an electrical shortage or Internet connectivity problems could sever your connection with the pool. All automated systems are susceptible to hacking. Some automated features can be costly to install, such as automatic pool covers. They may also break down over time and require replacement.
Tips for People Who Are New to a Smart Home Pool Control System
If you're not comfortable doing a full automation overhaul right now, prioritize the features that best suit your lifestyle and needs. Intelligent automation can be easily added to existing pools, which makes installation fairly simple as well as less expensive. And what about security? Consider automating the gate to your pool enclosure and keeping it password-protected. If you're still not sure, consulting a professional can be very helpful.
Investing in a smart home pool control system can be a positive step towards the future for you and your family. Automation will give you peace of mind and precision in managing your pool's settings and creating that backyard oasis you've always wanted. Since pool automation offers a high level of customization, you can tailor the system to perfectly fit your lifestyle. Smart technology is getting better every year, so you have nothing to lose!
Need your pool or spa repaired? Trust our experts to do the job right.